Things are shaping up quite nicely for some epic summertime fishing here in Key West and the Lower Keys. It is safe to say that there is never a bad time to be fishing in the Florida Keys, but summertime holds a special place in my heart when it comes to flats fishing out of Key West. All of our favorite species to sight fish on the flats and ready for us to hunt them down. If you enjoy targeting our shallow water sport fish like tarpon, permit and bonefish, it doesn't get any better than the next couple of months.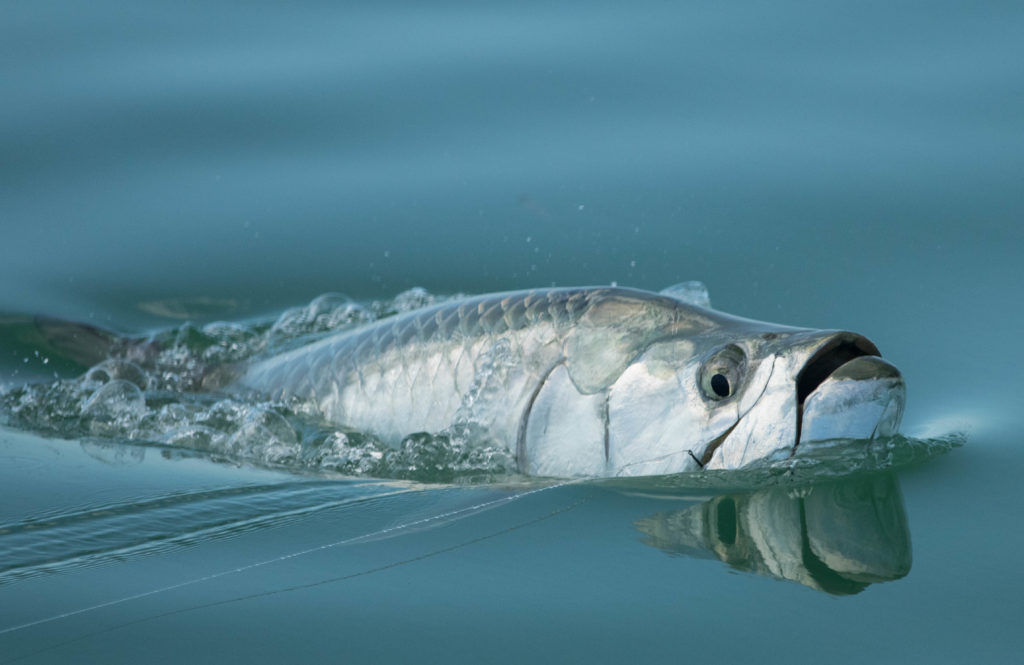 Tarpon Fishing
It is on fire right now and should continue to be very consistent through the summer months. We are using both spinning gear as well as fly fishing gear for these silver dragons. Average size is anywhere from 15lbs to 100lbs+! Yes the big dogs are still here and chewing! Our bigger migrational tarpon should be pretty steady into August and then they will start to thin out, but that will kick off the best time of the year to catch the juvenile tarpon up on the flats using light tackle. We look for rolling tarpon in the morning and as the day goes on we can start to sight fish them up in the shallows next to the mangrove islands or on the edges of flats.
Fly Fishing for Tarpon
June through October are my favorite couple months to fly fish for tarpon of all sizes. The water is warm enough for them to be up in the shallows and they do not have a problem eating some properly presented feathers. For the juveniles I will use anything from a 8wt-10wt set up and for the bigger ones I'll use a 11wt-12wt, both with floating line. I have all of the gear you will need but if you want to bring some of your own equipment just let me know before we get out on the water!
Permit fishing
Hunting the flats for the ole black tail devil has been very consistent lately. Most of the population has made their way back inshore from their annual migration to the reef to spawn and they are hungry! The summer months are famous for those slicked out glass calm conditions and there is nothing like the rush from sneaking up on a tailing permit in a foot of water. Sight fishing a permit on the flats is one of the biggest accomplishments any saltwater angler can hope for. They are very "spooky" fish and can be tricky, but if you have patience and can properly present a live crab or fly to a feeding permit you will have a good chance on hooking into one of these amazing fish.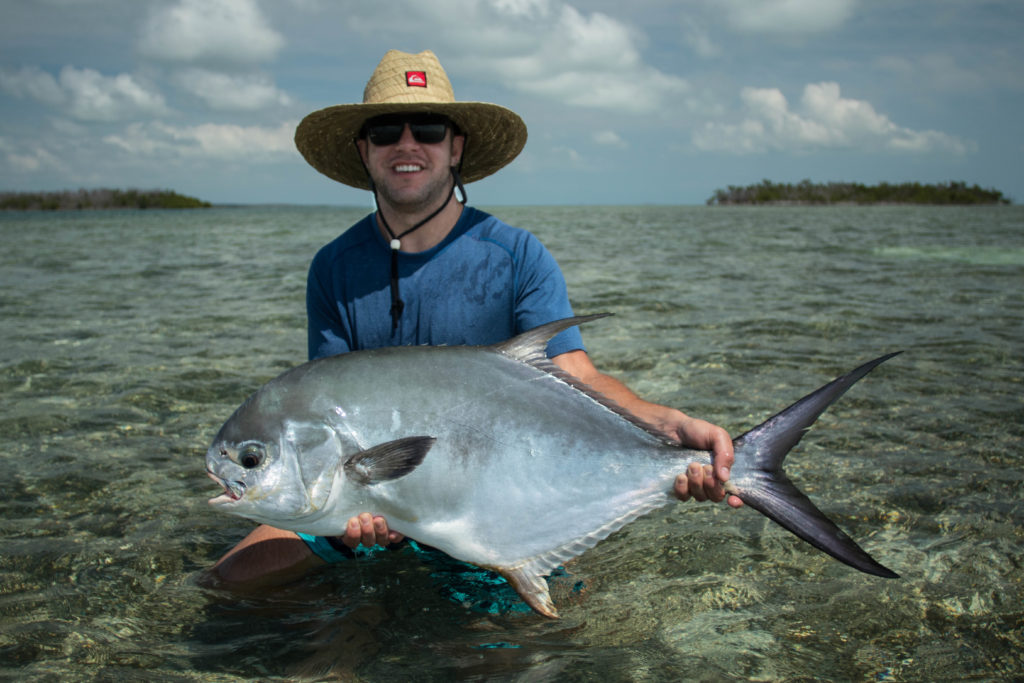 Fly fishing for Permit
The summer months are hands down when the majority of the permit are caught in the backcountry of the Lower Keys and Key West. At least on my boat anyway. Chasing down shots at groups of fish and hungry tailers on the flats are a daily occurrence when targeting permit during the summer months in Key West. Bring your A-game and a solid double haul because you will need it. I like to use a 10wt fly rod with floating line when targeting these guys in the shallows.
Bonefishing
The summer months here in Key West are hands down the best time of year to knock the bonefish off of your bucket list. The warm shallow waters surrounding the Lower Keys are home to this very iconic shallow water gamefish and can be readily caught with BOTH spin and fly fishing gear. For some reason when someone says they are going to catch bonefish people tend to assume that they have to be caught on a fly rod, but this is not the case. Yes it can have its advantages but we catch a lot of bonefish on spinning gear. We like to sight fish them feeding up in the shallows either over some sandy bottom or shallow grass flats depending on the conditions and tidal stages.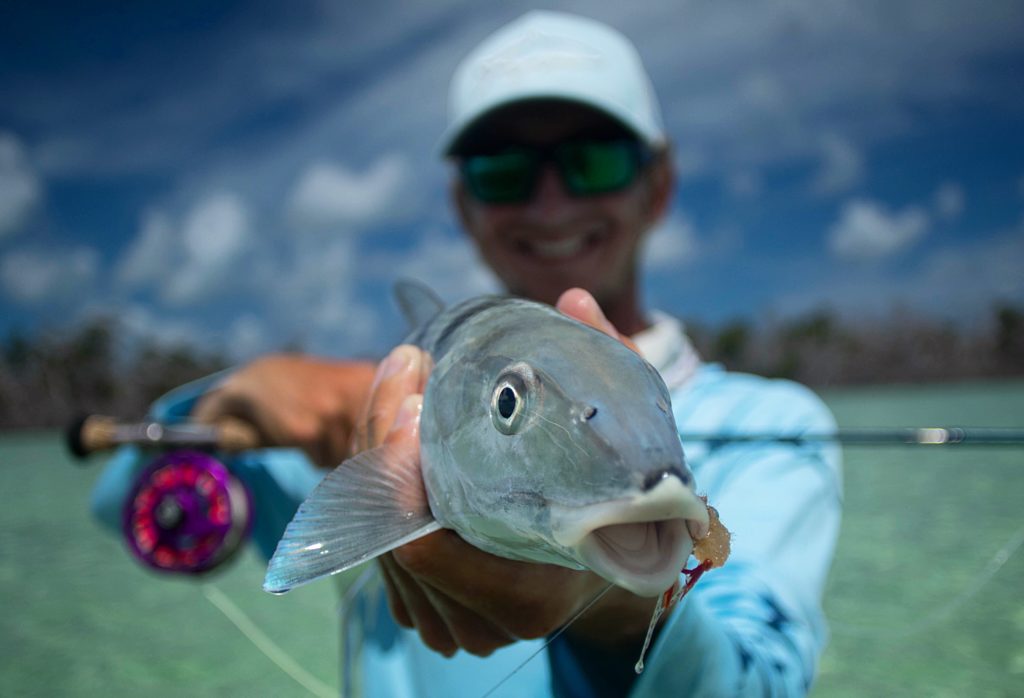 Fly Fishing for Bonefish
These fish were made with fly fishing in mind. They are in my mind one of the more welcoming species for anglers who enjoy sight fishing in the shallows. A bonefish will readily eat a properly presented fly and the drag screaming runs are just incredible. These next couple months will be full of a lot of bonefish caught on fly here in the Keys… I like to use 8wt rods with floating line for these guys. Most any weighted crab/shrimp patterned fly will do the trick (of course I have some favorites).
Let's book your fishing trip today! Feel free to reach out if you have any questions about planning your vacation down to the Keys. Wether it be what to bring with you or favorite places to stay in and around Key West. If you do end up booking a fishing trip and want to be a couple steps away from the skiff, I run charters out of beautiful Oceans Edge Resort on Stock Island. During the summer months here in Key West most of the hotels and restaurants are very affordable. Make sure to reach out before you book your stay I might be able to point you in the right direction in regards to accommodations. Tight lines and enjoy the summer!