Key West Bonefishing Charters
Bonefishing in the Florida Keys
Bonefish are one of the most sought after gamefish in the world. The Florida Keys are known for being home to a number of world record catches and fishing for the "grey ghost" can lead you to some incredibly scenic areas of the

flats

and

backcountry

. The experience in itself is worth the price of admission.
Bonefish are traditionally caught while sight fishing in shallow water. Its more like hunting in a way, patience and an accurate cast are usually rewarded. You do not need to be a experienced fly fisherman to catch bonefish, we target them on both fly and spinning gear on the flats off of Key West and the Lower Keys.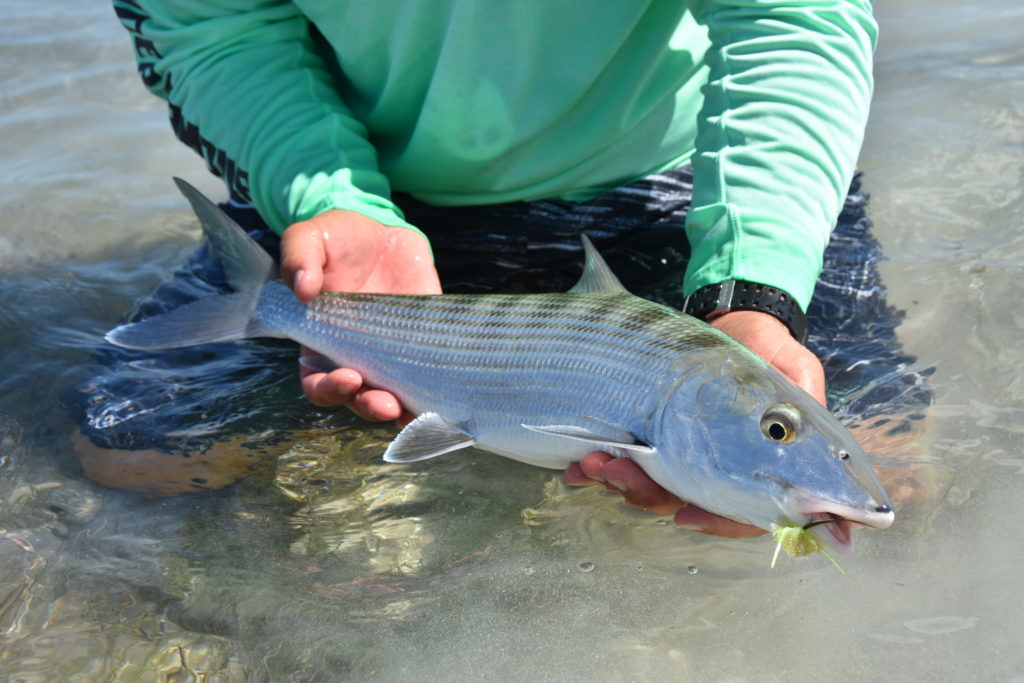 Best Time of Year to go Bonefishing in the Keys
The best time of year to go fishing for bonefish here in the Florida Keys starts in in the spring time when the waters warm up. Peak season will be in the summer and fall, but there is still a chance to get into some bonefish during the winter so make sure to ask your guide if the conditions are right. If you are coming down to knock this one off of the ole bucket list, I would try and come in the summer/fall. This time of year the water temperatures are warm these fish are officially crawling all over the flats. Also the weather is typically a lot nicer and offers some of those epic glass calm days that we all dream about.
Hunting bonefish on fly is one of my favorite things to do in the world. The areas that we find ourselves in are absolutely breathtaking. Sitting on a crystal clear flat out in the middle of nowhere waiting for a school of bonefish to swim your way is indescribable over text. We typically use shrimp/crab patterned flies on a 8wt fly rod to get the job done. 
It helps if you have a decent understanding of the "double haul" and an accurate cast. Most of the time bonefish do not let you get super close to them and can be skittish. I do offer free casting lessons here in Key West if you have time before your charter date and want to meet up for a refresher course.
Bonefishing Tips and Tackle
Bonefish love to eat shrimp and other small crustaceans. They come up on the shallow flats to feed and this is when we target them. The bonefish can be caught using

fly rod 

or spinning gear. They are very tidal dependent, which means that some areas will offer a better opportunities to find and catch these unique shallow water fish and depending on the conditions your guide will know where to start looking.
Patience and an accurate cast are both very important factors to a successful day of bonefishing.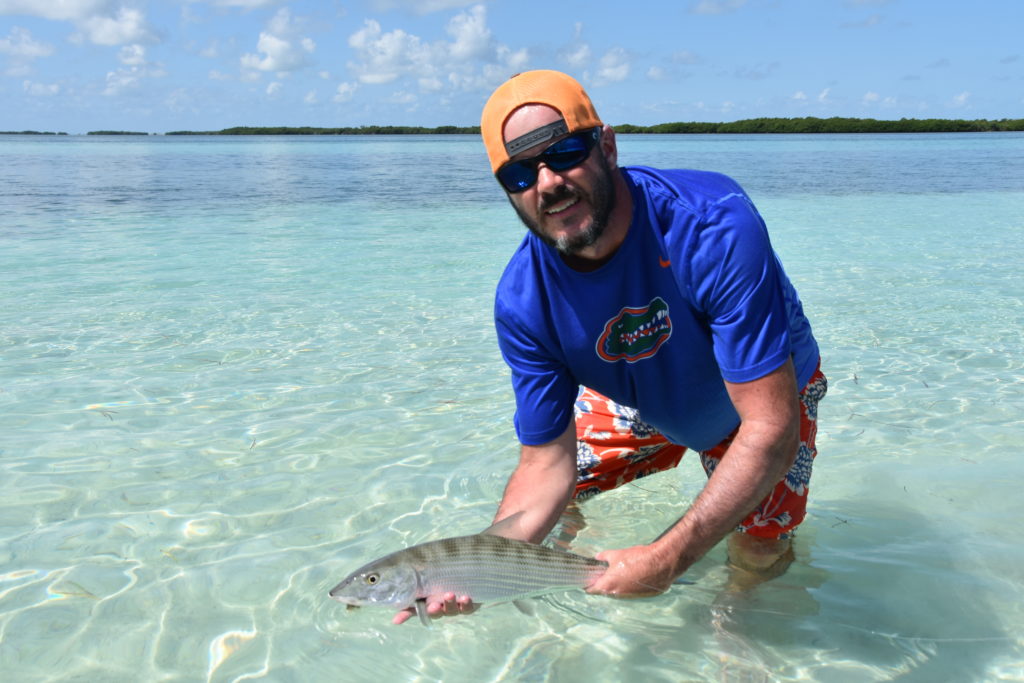 When it comes to spinning gear, I like to use a 7'6″ spinning rod paired with a light reel and 12lb test braided line. This light setup allows the angler to make those longer casts needed to stay off the fish. For fly fishing gear, I like to use a 8wt rod or sometimes a 9wt if it is windy and we need to punch a cast through the wind. Floating line and a small shrimp/crab patterned fly will usually do the trick. 
Your guide will call out the cast and do your best to put the lure or fly out in front of the fish. In the shallows they are very wary and will not appreciate a fly or lure landing too close or on its head. Once you hook into one you will realize what the fascination is all about. Their torpedo like shape makes them built for speed and a good sized bonefish can pull 100 yards of line off of a fly or spinning reel in a matter of seconds.