Key West Night Fishing Charters
Night Fishing for Tarpon in the Florida Keys
Tarpon are nocturnal creatures which means they are most active and feeding at night. If you really want to put a hurting to these critters lets go out for a couple hours under the moonlight. You won't get the same visual experience that you would under the Florida sunshine, but I promise you that they pull drag just the same.
A lot of anglers find themselves tarpon fishing around bridges at night throughout the Florida Keys. These fish stage up and feed around the pilings when the current is moving and can be easy pickings if you know what are you doing.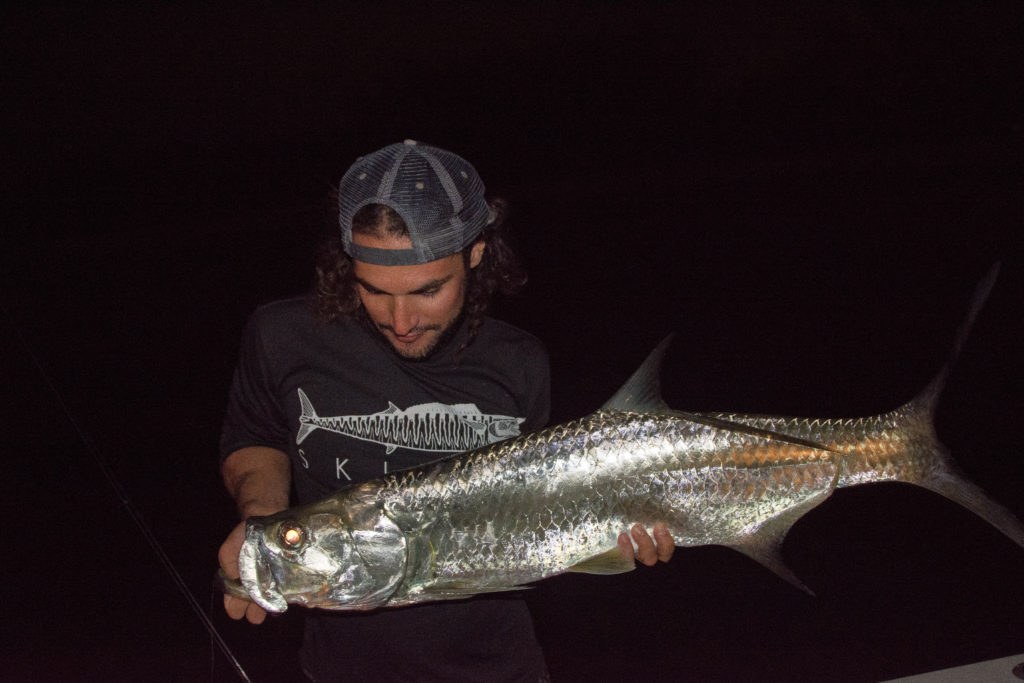 Night Fishing for Tarpon in Key West
Tarpon fishing at night here in Key West is truly an all year event. I like to focus on certain areas around Key West that hold a bunch of full-size tarpon (35-100+lbs) as well as juvenile tarpon (5-35lbs). Even though we do not have any deep water bridges like the rest of the Florida Keys, we do have the Key West Harbor which is home to many residential tarpon that play ball all year round. These fish stage up in certain areas depending on the tide and eat shrimp and baitfish all night long. Here at Tailing Water Expeditions we target these fish with a variety of artificial lures, live baits, and flies depending on the conditions and experience of the angler. 
Not only do we fish the Key West Harbor, but backcountry channels and basins are just a short ride from the dock and can be epic. Hooking over 10 tarpon in a productive night of tarpon fishing is not uncommon (depending on how long it takes to reel in the monsters). If you have not had a chance to experience this fishery I would add it to the list.
Best Time of Year to Tarpon Fish at Night
For your bigger tarpon (60+lbs), the best time of year will be April-July. That is when we get our big push of migrational tarpon here in the Florida Keys. We catch our juvenile tarpon on light tackle all year round and it is a blast. 
They will positively react to a wide variety of live baits, artificials, and flies- and there are a lot of nights where you just can not go wrong. It may be hard to believe, but there are more ways to have the night of your life besides spending it downtown on Duval Street.