Key West Lobstering Charters
Lobstering in the Florida Keys 
Lobster season has always been my favorite time of year down here. It just feel good. Summer time is a great time to come down and experience the Florida Keys with calm clear water and blue bird days. 
Lobstering is very productive from Key Largo to Key West if you know where to go or what to look for. If this is your first time coming down for lobster season, I would definitely recommend getting a guide to show you the ropes.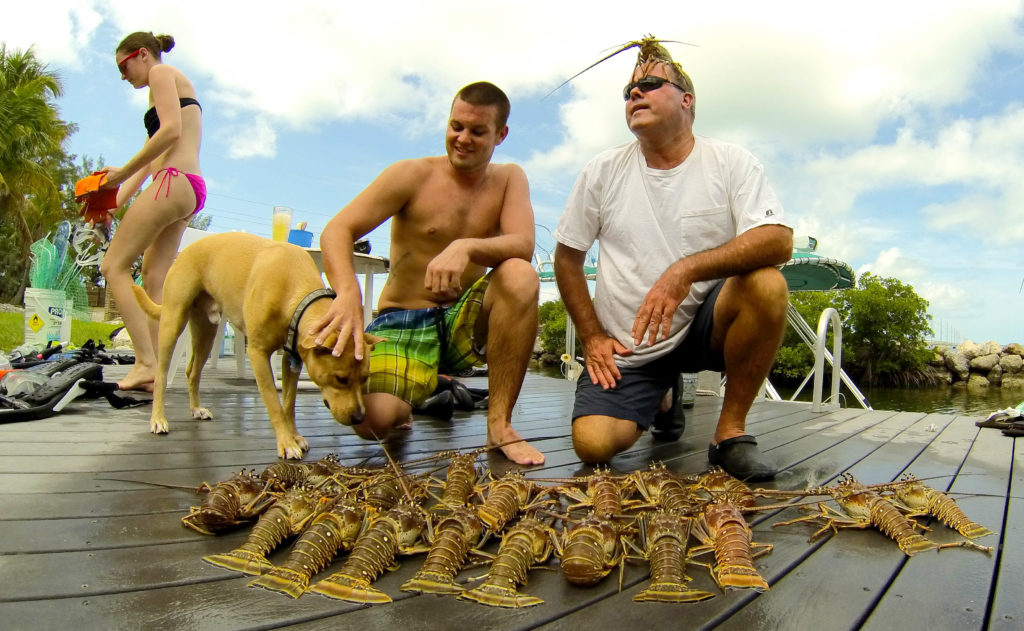 When is Lobster Season in the Florida Keys?
Lobster season kicks off with a 2 day mini season or "sportsmanship weekend" at the end of July and then opens back up on August 6th for a 9 month season. I have found that the first couple of months have been the most productive, but I would be lying if I said I haven't found myself grilling up some fresh lobster in February.
The two days during mini season are certainly the most productive couple days of lobstering we have all year. The spots have not been picked over yet and the commercial fisherman have not put their lobster traps in the water. The only downside of coming for mini season is that it is a mad house. Everyone with a boat is bringing it down to take part in the slaughter. So if you find yourself on the water for these couple of days- be sure to be safe! If you want to book a lobstering charter for the two days of mini season and the first couple days of opening season be sure to book in advance because dates fill up quickly!
How to Catch Lobster in the Keys
Tickle sticks and lobster nets are my preferred method of harvesting. Lobster and snorkel gear will be provided if you do not have your own. Lobster are surprisingly very social animals and tend to stick together. After scouting an area keep in mind where you saw some of the bigger lobsters. With your tickle stick in one hand and net in the other, GENTLY touch the underside of the lobster and it will begin to walk out of his hiding space. Keep this calm "tickling" action going until the lobster has walked out of his hiding spot enough to get your net behind him. He will then kick backwards into the net. Wrap him up and measure the lobster under the water to make sure he is of legal size. And if he's a keeper, toss him in the boat! You are allowed to keep 6 legal lobster per day and I will have all of the licensing you need!
One of the coolest parts is that you don't have to look out for any claws! The Florida Spiny Lobster is just that- spiny! Traditionally they are captured with snorkel gear in the shallow waters of the Florida Keys Backcountry. Anywhere from 3-10 feet of water is our preferred depth of harvesting. Depending on your snorkeling experience I like to try and get our limit in as shallow of water as possible.
Feel free to give me a call with any questions or concerns regarding our lobstering charters. If you plan on making a trip down here in the summer, I highly recommend spending some time lobstering. There is not much better than throwing some fresh caught lobster tails on the grill after a fun day out on the water. 
Mini season books up quickly as well as the first couple weeks of season. All of our lobstering is done with snorkel gear in shallow water, please do not ask to bring scuba gear on board.