Tarpon Fishing in Key West
Welcome to the addiction.
If I had to pick a single fish to represent the Florida Keys, it would have to be the mighty tarpon. These incredible sport fish will keep you awake at night and fill your daydreams. The acrobatics and drag screaming runs keep people coming back year after year to experience this addicting fishery.
Key West is one of the best tarpon fishing destinations in the world. We have fish all year long and the crystal clear waters offer some incredible sight fishing opportunities. Charter dates during tarpon season (March-June) book up quickly so please book in advance if you want to come down during this time of year.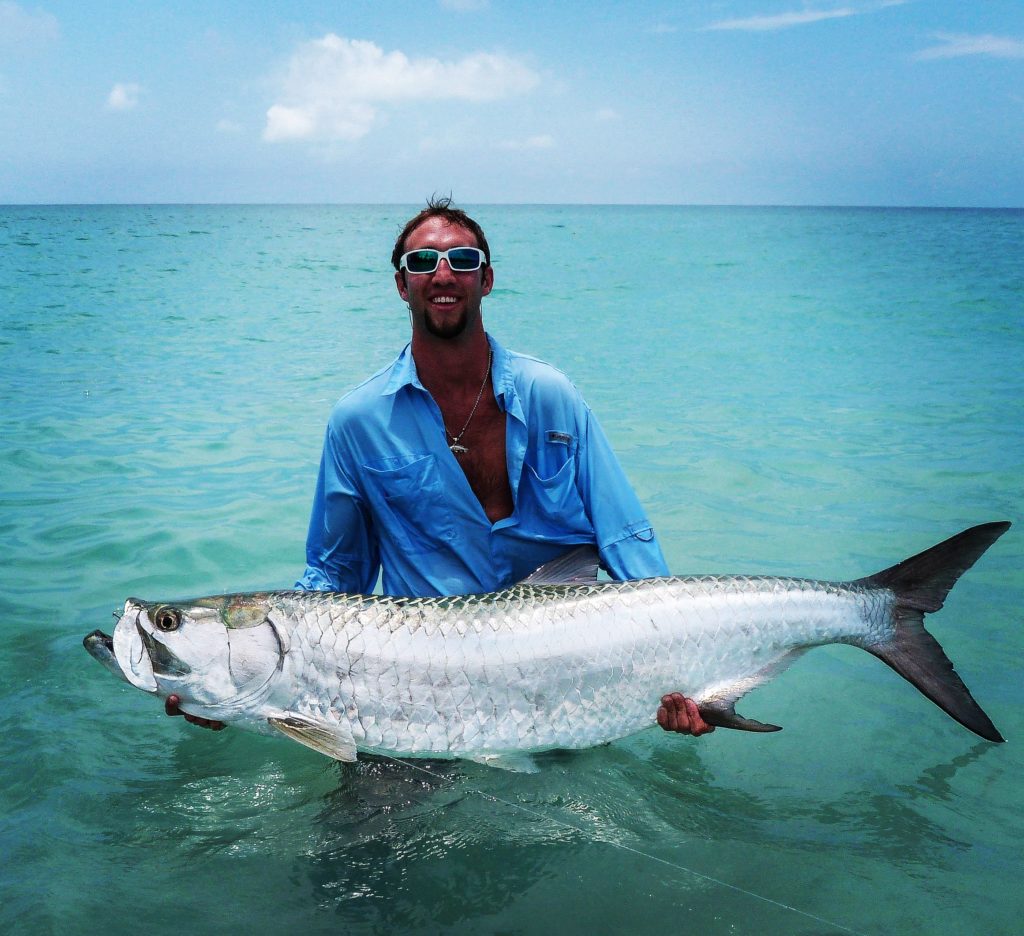 When is Tarpon Season in the Florida Keys?
Here in Key West, FL our big migrational tarpon start showing up in the spring time. The beginning of March usually kicks it off and they stick around until about August. During peak season (April – June), we get to experience thousands and thousands of migrational tarpon traveling though the stunning waters surrounding the Lower Keys. If I had to pick two months out of the year to book a tarpon fishing charter, May & June would be the winners. Springtime dates fill up extremely fast especially after anglers get the chance to witness this incredible fishery firsthand.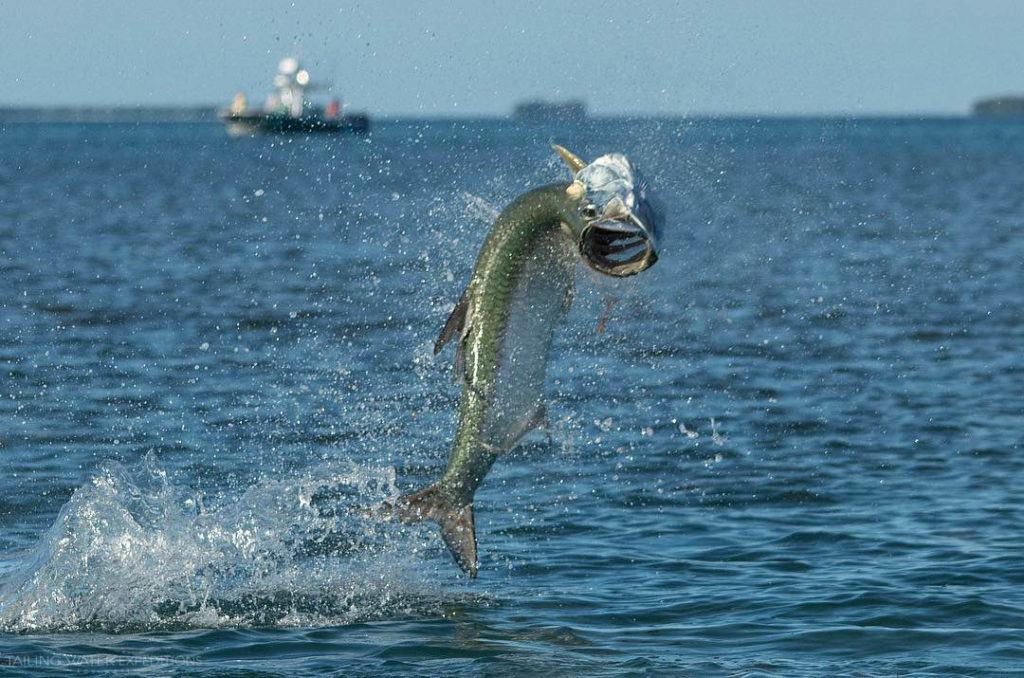 Late summer/fall is also an excellent time of year to target our juvenile tarpon (10-30lbs) in the backcountry. They are all over the place and easily taken on light tackle or fly gear.
The cooler months (December – February) make it a little harder to find good numbers of our bigger tarpon, but there is always a shot at hooking into some if you know where to look and the conditions are right.

Nighttime tarpon charters

during these cooler months are still action packed and full of great opportunities to hook into juvenile tarpon on light tackle (averaging 10-30lbs). 
Fly Fishing for Tarpon in the Florida Keys and Key West
When someone says that they are going "fly fishing in the Keys", the first thing that comes to most people minds is targeting our most iconic inshore sportfish. The tarpon! Fly fishing for tarpon in the Florida Keys and Key West is legendary and for good reason. Our clear waters and abundance of migratory fish make the Keys one of the best places in the world to target these gamefish on the flats. It does not get any cooler than watching a one hundred pound dinosaur inhale your fly in two feet of gin clear water.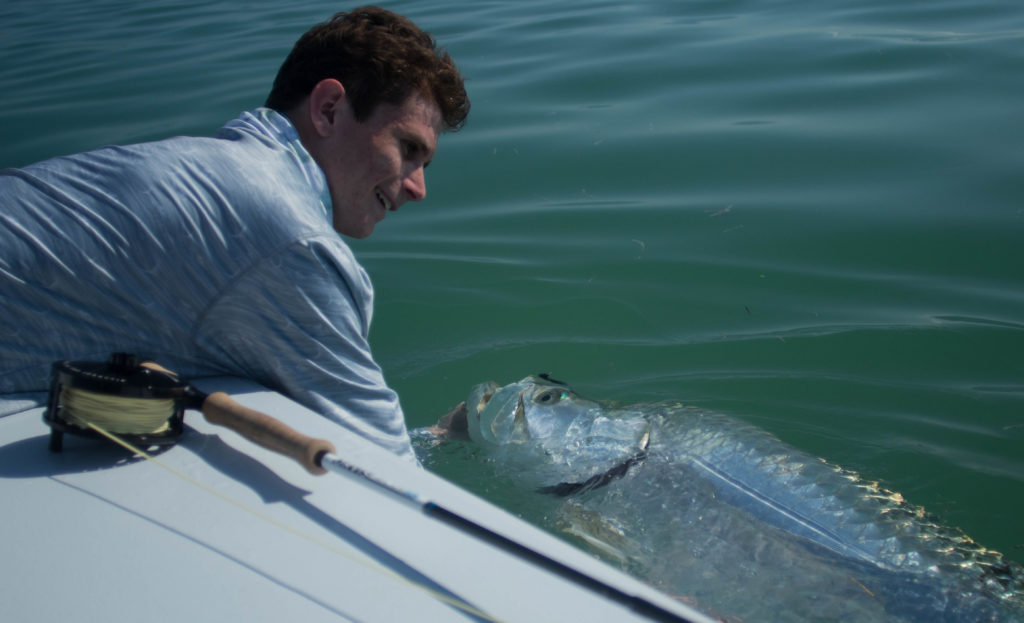 The Best Time of Year to Fly Fish for Tarpon in the Key's
Big Tarpon

– April-July. If you consider yourself a fly fisherman this is certainly a bucket list event. These monsters get up on the

flats

and offer uncompared fly fishing opportunities. 
Juvenile tarpon

 – July-October will offer us great fly fishing opportunities. These fun sized fish get up in the shallows and hop all over a properly presented fly. The first cold front usually moves in around October or November, depending on the year, and sends them into the deeper waters where we have to target them with live baits- but it is still a blast!
Key West Tarpon Fishing Guides
There are many different ways to catch these magnificent sport fish. Some prefer to stalk them in the shallows and throw flies, while others use a variety of live baits and artificials on spinning gear to get the job done. Other tarpon guides would rather anchor up and put out a dead bait on the bottom or chum them to the boat with cut up shrimp boat trash, or sardines. Each of these ways can be an effective way to hook into the mighty tarpon, but each technique offers a different experience to the angler. 
Here at Tailing Water Expeditions we strictly sight fish tarpon with live bait, certain artificial lures, and fly fishing gear. I find this technique to be a lot more rewarding to the angler and it is a style that I am very confident in producing good numbers of fish.
The average Key West tarpon will weigh about 60lbs and the battle time will last anywhere from 15 minutes to over an hour! Using the right gear is critical to landing these monsters. Our spinning reels are packed with 300 yards of braided line on top of 150 yards of monofilament backing, and trust me there are some fish that will try and empty the spool. 
When it comes to fly fishing we use 11/12wt rods with floating line to target these monsters on the flats. When we are targeting the smaller tarpon, we use 9/10wt rods.
One of the cool things about tarpon fishing is that there are a ton of different styles to target these magnificent sport fish. You can choose to try and sight fish them on the flats or chase them under the moonlight. 
This varies on the day-to-day conditions as well as the experience of the angler.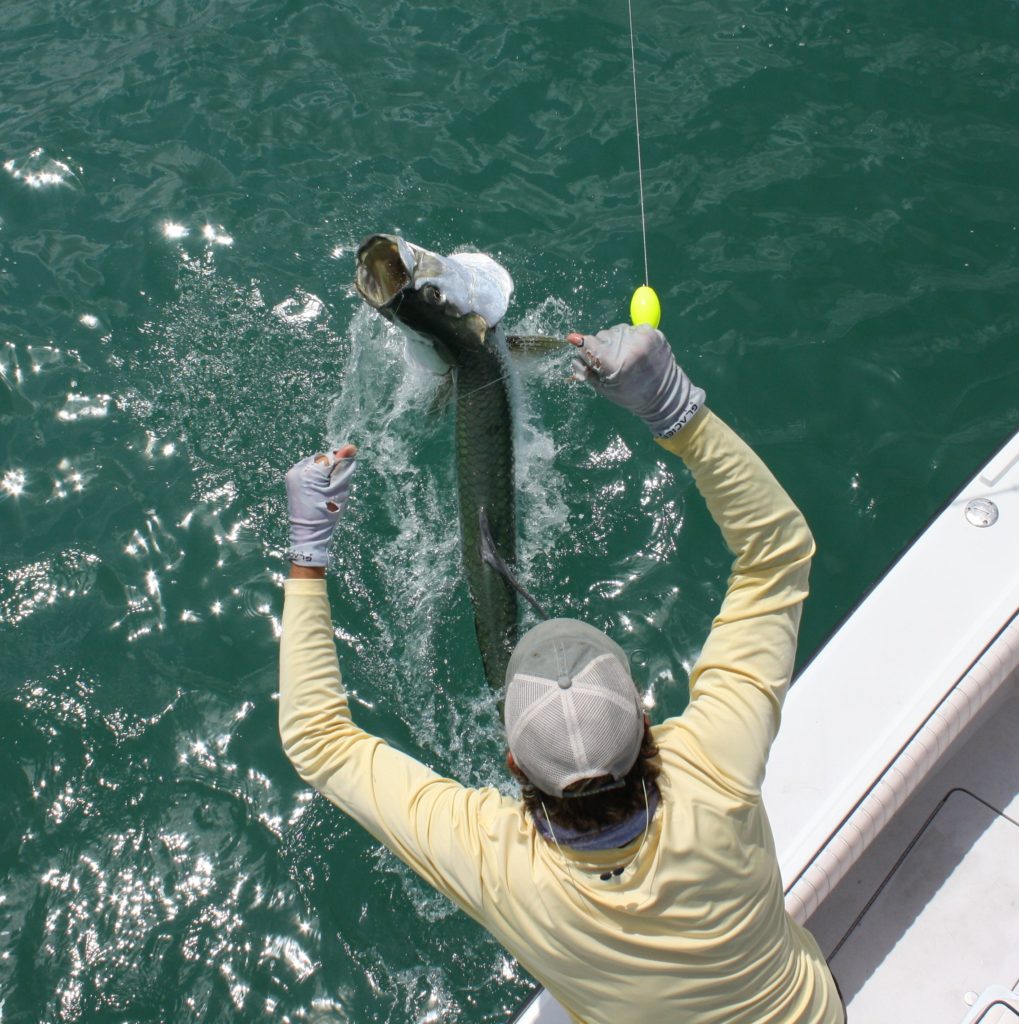 Tarpon fishing charters book up quickly. Some clients lock in multiple days a year in advance after taking part in this annual experience. Please make sure to book your trip ahead of time for dates in tarpon season.