Marquesas Fishing Adventure –
You couldn't make out where the water stopped and the sky began as I drove to the west of Key West torward the fabled Marquesas Keys. As the world stared to get light you could start to make out the sea turtles popping their heads up the surface to grab a breath while a group of pelicans were dive bombing baitfish up again the edge of a flat. We all were enjoying the first rays of sunshine that started to peak over the horizon and pave the way into the beautiful Florida Keys backcountry.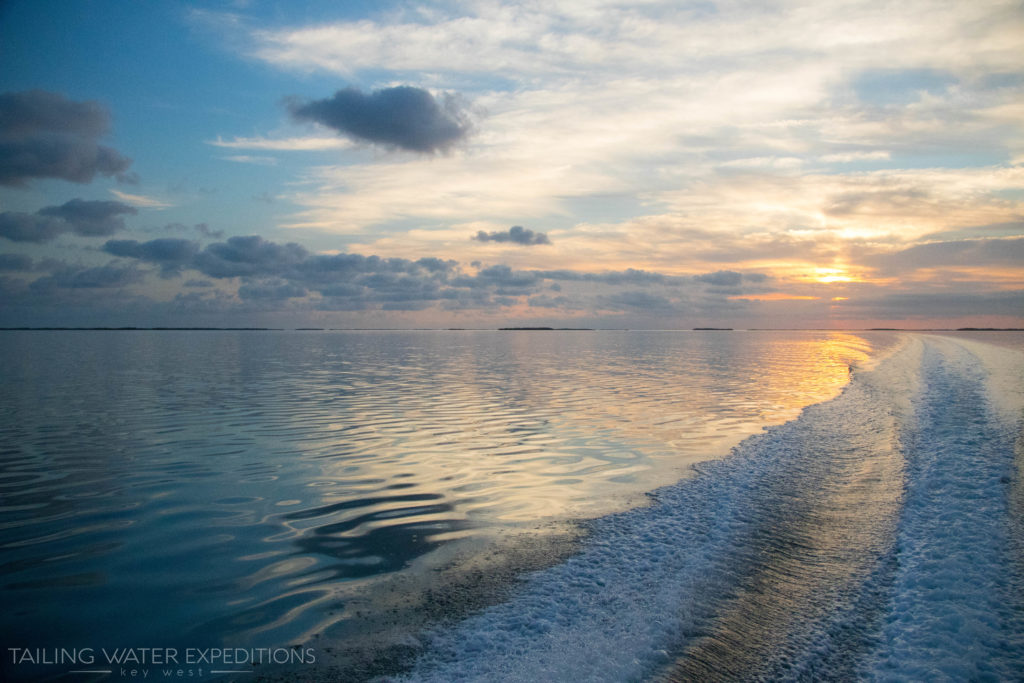 We have had an pretty good month so far with light winds and warm temperatures that had the fishing out of this world. The sun was just starting to come up as I reached Boca Grande Channel, the last stretch of water between me and the promise land. Right before I reached the last marker and started to make "the jump" over to the Marquesas Keys I looked over to my friend and we just smiled. No words were needed, we both knew what glory potentially awaited us on the other side.
As we were crossing the channel there were schools of jacks, blue runners, and mackerels showering unsuspecting bait fish upwards torwards the sky as frigate birds and turns danced around picking off the ones evading the hungry fish down below. Even though we knew we could catch a couple of these angry predators we kept our eye on the prize and kept on driving past the mayhem towards the mangrove shorelines to the west. Our day dreams consisted of shiny silver tarpon inhaling flies with their big bucket mouths and sickle fins tickling the surface as the ever elusive permit searched the shallows in search of a meal.
As the islands started to come into better view I noticed a skiff already posted up on the east side of the atoll, patiently waiting for an unsuspecting target to present itself. We were late.
So on I went running the south side towards another channel where I had the suspicion of finding some big silver dinosaurs. Sure enough as soon as I came down off plane we started to see some fish. It was still glass calm and it wasn't hard to spot the school of tarpon slowly breaking the icey smooth surface and sliding back towards the depths. It looked like a pretty good batch of fish. Awesome. I hopped up on the poling platform and we went to work..
Key West Fishing Charters